Love this initiative. Bravo Nicolas Kee Mew
Nicolas Kee Mew, who has been working in care homes for over a decade, says it is the "passion of the staff that make a good care home".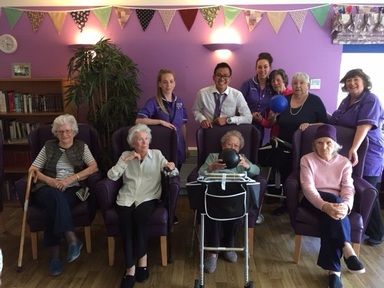 Nicolas Kee Mew with residents and staff at Riverdale Court care home
Mr Kee Mew has just been appointed manager of Riverdale Court. Prior to that, he was manager of Barchester Wimbledon Beaumont Care Community where he introduced the silent disco, which has become a popular phenomenon at festivals.
He is originally from Mauritius and came to the UK to study accountancy. "I needed a part time job for the weekend and a friend of mine recommended I try working as a housekeeper in a care home."
Mr Kee Mew, who was 19 at the time says: "We did not have any care homes at that time in my country but my grandfather had Alzheimer's and I was always curious about this disease since I was very young."
In his new role at Riverdale Court managing 56 members of staff, he hopes to introduce more technologies such as sensory equipment to prevent and reduce falls while still allowing residents to still be as independent as they can. He also wants to use music as he did at Barchester Wimbledon Beaumont Care Community to boost residents' physical and mental wellbeing.
As manager of Arthur House in Wimbledon in 2017, Mr Kee Mew won the award for Dementia Care Inspiring Leader at the National Dementia Care Awards.
He received the award for being an inspiration to his team and developing morale.
Motivating staff is very important to Mr Kee Mew, as he sees that as integral to how the care home performs.
He sees the challenges of his job to "be for the care team to be recognised for their hard work and to feel appreciated.
"Unfortunately the labour turnover can be high in a care home and it is my role as the manager to motivate my team and show them there is a career in health and social work.
"It is vital for me as a manager to create a culture where my staff feels appreciated. I like to support and coach my team to get the best out of them so that one day they can become a manager too."
Part of the appeal in working in a care home for Mr Kee Mew, is the variety and that every day is not the same.
He also enjoys the praise and recognition from the residents and their relatives when they are happy in the care home and feel well looked after.
"There are a lot of competitors around but what make us unique is about how we differentiate from our competitors in terms of person centred care, treating our residents with respect, dignity and also promoting their independence."
Mr Kee Mew is also keen for the home to be fully inclusive and recently the care home held its first mini silver pride.
"I have been caring for a lot of LGBT residents and manage some LGBT staff. It is important to let them know that it's okay to be who they are and to celebrate diversity.
"Unfortunately it is taboo in many care homes and it is more difficult for residents living with dementia."
Mr Kee Mew believes that it won't be long before care homes start caring for transgender residents, saying: "We will have to adapt to the changes and ensure that our staff understand how to meet the needs of LGBT+ older people."